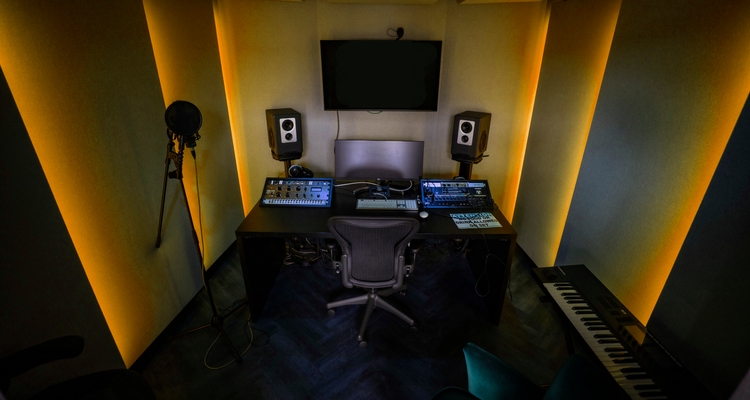 10 Tracks That Show What A&R Managers Look For In A Demo
Whether seasoned or up-and-coming, all producers have a bucket list of labels they'd like to release on. But you've got to impress the label's respective A&R manager(s) to achieve that, and this could prove troublesome if you don't know what they look for in a record. Their job is always a case of long-term strategy and artist development, but it's also sometimes a mere matter of taste, which means that great takeaways can be found in the releases A&Rs have already signed, sealed and delivered. Here are some of those bite-sized takeaways from Armada Music A&R Manager Harry Fowler through ten tracks he personally picked for official release in 2021.
Audien feat. Cate Downey - Wish It Was You
The heartfelt lyrics in this song are super relatable, but what Nate did with the production is next level… The chord progression is typical Audien and works perfectly with the topline. I particularly love what direction he chose with the drop, as well as the signature Audien sound with a nod to his Progressive House roots. U.S. radio stations clearly think the same, as 'Wish It Was You' hit #1 in the U.S. Mediabase Dance chart.

Ferry Corsten feat. Lovlee – Poison
What sets this track apart is the arrangement and the build-up toward the main drop in particular, as it's engineered for a live situation. By steadily increasing the time on the arpeggiated sequence, the song gets this "winding up" feeling. It's a very clever and unique way to bridge the gap between breakdown and drop in a proggy track, and I can tell you it goes off big time when played live.

ARTY feat. Griff Clawson – Those Eyes
There's something totally unique and different about this ARTY record that keeps you going back again and again. It's mostly the overall feeling of it being fresh whilst sounding raw and organic through Griff's original guitar, the folk-like claps and other bits and pieces. The vocals are catchy and coat the song with a sense of intrigue I can't help but love.

Armin van Buuren & DubVision feat. YOU – I Should Be Loving You
An incredible song with bags of empathy that is clearly written from the heart. Vocal processing and layering give this warming vocoder effect that draws you in from the get-go. It's both progressive and trancy in the breakdown, combined with infectious house beats that provide exactly the right amount of drive.

Cubicore feat. K.I.R.A. – You
This track pretty much sums up the new sound direction of Cubicore, who'd traditionally been producing more full-on trance before his "switch". The brass stabs in the bassline give this track so much width and drive throughout, blending that progressive and euphoric style together whilst still keeping it trancy.
D.O.D – Every Step
It's one element in particular really: the killer piano riff. It's a hook in itself and drives the record forward. The vocal complements it perfectly and helps secure this winning combo. It' a fun UK house track that shows how one compositional element produced to perfection can make all the difference.
John O'Callaghan feat. Audrey Gallagher – Big Sky (Andrew Rayel Remix)
This is how to do a remix. Andrew came up with new chords and completely reworked the melody into something original and authentic. You can hear it best in the breakdown. The melody is incredible; it stretches over 16 bars and is interesting, epic and ultimately uplifting at every turn. Trance as it should be.
Heliotype – Your Love
With this track, it's the combination of the breakbeat rhythm and the bassline. Together with the playful lead arrangements and dreamy vocal, it manages to evoke a groovy summer vibe whilst completely sitting in its own genre. Its cool uniqueness is what made me sign this and I've been calling it "Balearic Bass" since.
Andrew Rayel – Silver Lining
It's the second Andrew Rayel production I chose to highlight, but it's something very different from his usual work. 'Silver Lining' is overall a more commercial dance-pop record, but the housey piano arrangement makes this track very playful. Add to that the ethereal vocals and uplifting yet melancholic vibe and you know why I immediately slotted this one in for release.
Ørjan Nilsen & Mark Sixma – Pantheon
'Pantheon' is a perfect blend of Ørjan Nilsen and Mark Sixma's respective sounds with a catchy melody hook. But what I love the most about this track is the way the melody is first teased entering into the breakdown, giving you the feeling you know what to expect. Notice how the structure of the track has the main lead coming through in full for just 8 bars before diving straight into the build-up and drum roll. This keeps the pace and keeps the energy, which there's a lot of in the build-up (and the drop as well).
---
Of course, productional and compositional quality is very important. So when you've got that covered and want to stand out, it's these fine details that could land you an official release on a big label of your choosing.