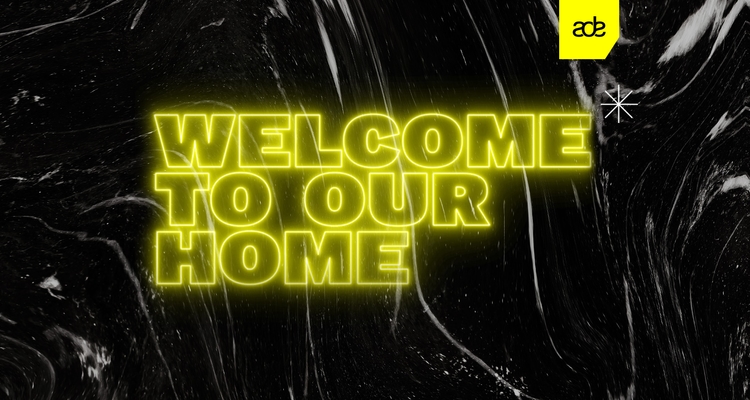 Armada Music ADE 2022: Full program
Amsterdam Dance Event is finally happening again this year, and we're hosting lots of amazing events to make sure it'll be incomparably memorable for everyone. Want to know what we're up to and which of our events you can join? Scroll down, check out what we planned, and don't forget to RSVP if you want to attend!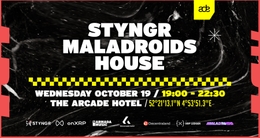 Tom Staar and Kryder, two major electronic music artists currently signed to Armada Music, are launching their new, collaborative album as the exclusive soundtrack of Maladroids, the hotly anticipated Web 3 video game that recently saw its release.

On Wednesday, October 19 come celebrate with us as Styngr, Ripple, and Armada Music host an on-site House Party at the Arcade Hotel Amsterdam. If you can't make it there will be a virtual house party where Tom Staar and Kryder will perform an exclusive set to share some of the upcoming music. The show will be livestreamed in Decentraland and a unique rare drop of Styngr wearables will be given to the first attendees.
Though we're not at liberty to reveal the full line-up of this event, you can bet your bottom dollar that you and all other Trance fans are in for the time of your lives. On Thursday, October 20, from 2 till 10 p.m., we'll be hosting a special episode of Armin van Buuren's A State Of Trance radio show as well as a full-blown 'Armada Invites: ASOT' event in our in-office club. Make sure to check it out for 8 hours of instant euphoria!

Want to attend? RSVP via the following link for the chance to gain a spot on the guest list.
Armada Invites: ASOT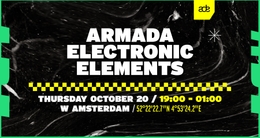 Armada Electronic Elements is back with a special showcase in the iconic W hotel on Thursday October 20 from 5 p.m. till 1 a.m. Tensnake, Joris Delacroix, Lyke and mOat are just some of the names that will be performing, so be sure to clear up some space on your calendar for this one. Want to attend? The Armada Electronic Elements showcase at the W hotel is a free event and has limited capacity, so make sure to arrive on time (no RSVP).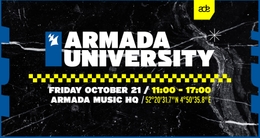 Once again, we're throwing a huge Armada University happening in our headquarters in Amsterdam during the world's biggest dance music conference. On Friday, October 21, we'll be hosting four hour-long masterclasses from Ableton certified trainer Camiel Daamen, Maxim Lany, Luke Bond and ReOrder, as well as two demo drops in the Armada Studios with the artists and our A&Rs. Expect to be thrown head first into topics such as sound design/synthesis, tapping into other genres and how to create an absolute banger of a record, following by personal feedback on your demo from the artists or the Armada Music A&Rs. All masterclasses are taught in Ableton Live and offer invaluable information regardless of the DAW you use yourself, so make sure to RSVP via the link below. We will send out the official invites to the grand total of 80 producers around two weeks before the event. Want to attend? RSVP via the following link for the chance to gain a spot on the guest list.
Armada University at ADE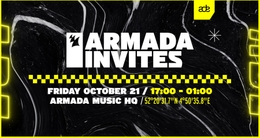 Hosting an 'Armada Invites' event in our in-office club in Amsterdam has become one of the most hotly anticipated customs during the annual Amsterdam Dance Event, and this year is no exception. On Friday, October 21, from 7 till 11 p.m., artists such as Kryder, Matt Guy, KURA, and Ninetails & Brando will step behind the decks for a Friday night that'll keep you and all other partygoers buzzing for a long time to come. Want to attend? RSVP via the following link for the chance to gain a spot on the guest list.
Armada Invites: ADE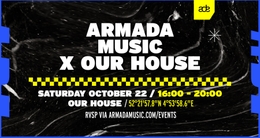 For an audial deep-dive into the history of dance music, our showcase at the Our House museum (October 22, from 4 p.m. till 8 p.m.) is a must-attend. Located at the very same spot where Amsterdam's legendary club iT thrived until the early 2000s, the museum offers an interactive journey through the evolution of dance music, so it's only fitting that one of house music's pioneers, Joe Smooth, heads up this showcase alongside Lyke, Polar Inc. and Ninetails.
Armada Music x Our House Showcase