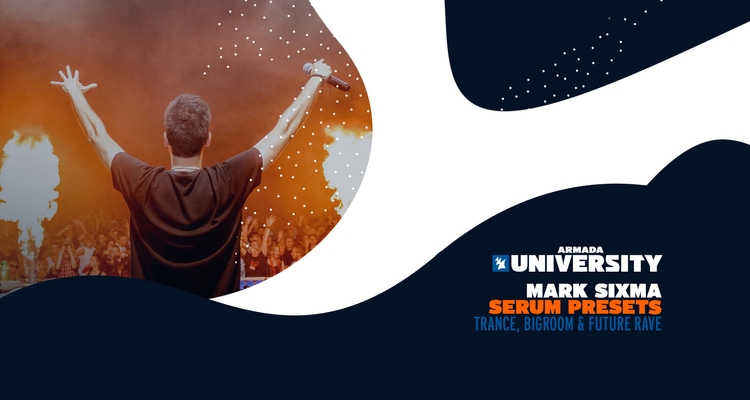 Mark Sixma

Serum Presets: Trance, Bigroom & Future Rave
52 Powerful Presets
Designed by Mark Sixma
Plugin: Serum
100% Royalty-Free
Downloadable Product
€19,99
You're an upcoming producer looking to score your big break, and that means your music needs to stand out from a mountainous pile of demos and contest submissions. And while that isn't an easy task to begin with, it's even harder if your sounds aren't as powerful as those of professional producers. Thankfully, we've got that part covered!

Designed by Mark Sixma in collaboration with Armada University, this 100% royalty-free preset package for Xfer Records' Serum plugin gets you instant access to the high-energy, club-scorching sounds the Trance icon is known for. This specific soundbank works especially well with styles such as Trance, Bigroom and Future Rave, and includes 52 never-used-before high-impact sounds, ranging from basses, leads, pads and plucks to everything in between.
The soundbank contains:
- 15 BASS presets
- 4 FX presets
- 14 LEAD presets
- 6 PAD presets
- 10 PLUCK presets
- 2 SEQUENCE presets
- 1 SYNTH preset

---
Product Compatibility
This product requires Xfer Records' Serum version 1.322 or upwards to function correctly. We cannot guaranteed that it will work with older versions, so please verify your plugin version before purchasing the soundbank. Refunds will not be given to customers who do need meet this minimum requirement.

Product Explanation
This is a preset product, meaning it does not contain any form of sampled audio or MIDI files. The presets are data files that can be loaded into Xfer Records' Serum software synthesizer.

Disclaimer and Purchase Information
This product will be delivered as digitally downloadable files, which will be available for download instantly upon purchase. No physical product will be shipped.
All melodies used in the demonstration files are copyrighted to the respective owners.