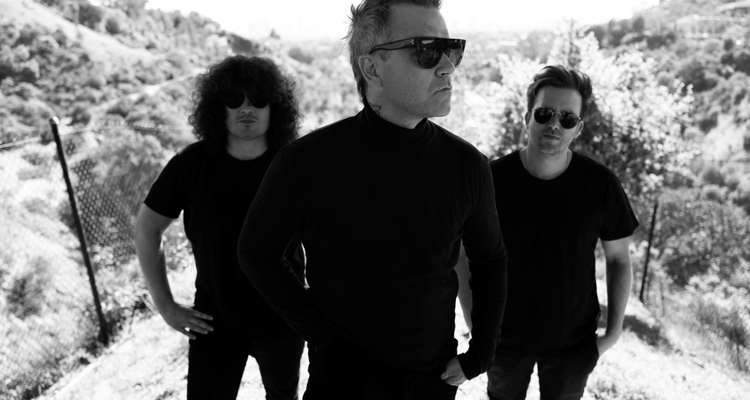 LUFTHAUS DROP THIRD SINGLE 'SOUL SEEKERS'
After many months of cryptic messages, unidentifiable silhouettes and sold-out Ibiza shows performed in anonymity, Lufthaus are stepping out of the shadows to unveil the three masterminds behind the project. Comprised of vocalist Robbie Williams and his longtime collaborators Tim Metcalfe and Flynn Francis, the electronic music trio are now dropping their third single, 'Soul Seekers', just ahead of their arena tour support slot with Robbie Williams across the United Kingdom.
Abiding by the tone set by their first two hits ('Sway' and 'To The Light'), 'Soul Seekers' introduces a haunting, yet enchanting shadowy ambience that pulls listeners in from the get-go. Complemented by introspective lyrics, delicate whispers and mellow, heart-prickling plucks, the trio's third release on Armada Music heralds the next part of the Lufthaus journey and is, according to Robbie Williams, "for those who know there's more worth knowing".

Founded in 2020, Lufthaus faced some turbulence with their productions under lockdown. It only made them more appreciative of – and attentive to – their sonic identity and the raw details of their music, which will take centre stage throughout their upcoming live shows. "We're thrilled to be bringing our live show to arenas across the United Kingdom and Europe this winter in support of Robbie Williams", Lufthaus say. "Fusing our signature sound and Robbie's conspicuous vocal presence with live elements has always been an objective of ours, so we're excited to keep pushing forward. Our upcoming shows will be laced with surprises, including a new series of songs we've been working on."

Right upon the release of debut single 'Sway' earlier this year, it became evident that the sound of Lufthaus strongly gravitates toward the iconic Berlin sound. Characterised by melodic synths and somber basslines, each of the trio's releases so far marries dark electronic elements with Robbie Williams' seraphic moving vocals, forming hypnotic digital ballads replete with mystique. In the weeks following today's release of 'Soul Seekers', Lufthaus will be playing thirteen shows at various locations across the U.K. in support of Robbie Williams' ongoing tour, including The 02 in London, the AO Arena in Manchester, OVO Hydro in Glasgow and The 3Arena in Dublin. In the opening months of 2023, the trio will also support Robbie Williams during his 'XXV' tour across Europe, playing a total of 26 shows in cities such as Paris, Amsterdam, Berlin and Barcelona.