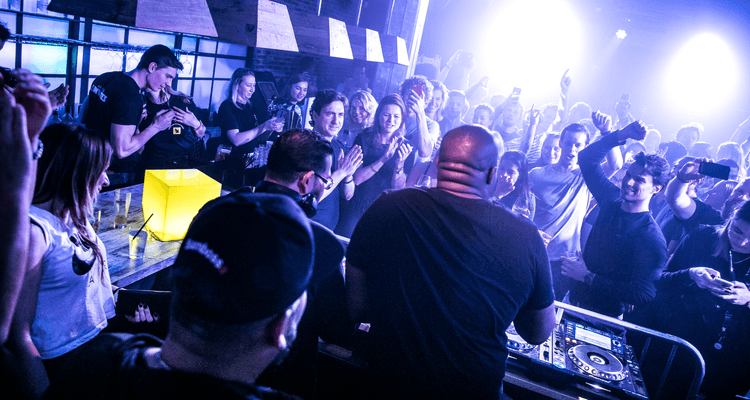 What Is House Music?
WHAT IS HOUSE MUSIC?
House music is the oldest genre within electronic dance music and still one of its main pillars today. It is a direct descendant from disco music, rising to prominence in the late '70s and early '80s when the disco era ended.

In the more than forty years that followed since, it has infected billions of people with the dance music bug and influenced countless other (sub)genres within electronic dance music. Almost all (sub)genres within EDM are (in)direct descendants from house music, as this genre marked the beginning of electronic music as we know it.

For a further, more detailed rundown of the history of electronic music and house music's place in it, we suggest reading or bookmarking our 'The History Of Dance Music' article.

Back to Table of Contents
HOW DOES HOUSE MUSIC SOUND?
House music can be characterized by a steady four-to-the-flour beat that ranges from about 118 to 130 bpm (beats per minute). Like disco, it is driven by a prominent kick drum that – especially in the genre's early days – draws heavily from iconic drum machines such as the Roland TR-808 and the Roland TR-909. House beats often include open hi-hats on the offbeat (in between the kick drums) and claps or snares on every second and fourth beat. Add to that a deep bassline, a synthesizer-generated riff and the occasional soulful or funk-inspired vocal and you've got yourself a quintessential house record.
It's worth noting that house music producers typically rely on samples and sampled instruments rather than bringing other musicians into a recording studio. This stems from the fact that samplers started becoming more affordable in the late '80s, which is when house music started to gain a lot of popularity.

Back to Table of Contents
WHAT IS THE HISTORY OF HOUSE MUSIC?
The name "house" is believed to have been derived from the Warehouse club in Chicago. Frankie Knuckles – a man who was originally from New York but moved to Chicago in the late 1970s – was invited to play at Warehouse on a regular basis when the club opened in 1977. He was among the first to mix his own eclectic variety of genres and styles into a sound that people started referring to as house music, or music from the (Ware)house.
Other house music pioneers from that time were artists like Larry Heard (also known as Mr. Fingers of Fingers Inc.), Jesse Saunders, Ron Hardy and Farley Jackmaster Funk. The latter was responsible for the first international house hit: his cover of Isaac Hayes' 'Love Can't Turn Around'.

Furthermore, here's a small passage about house music taken from our "The History Of Dance Music" article:
Another figurehead of the first wave of house producers was Marshall Jefferson, whose style became synonymous with Chicago house. He tied the now trademark vocals, thumping piano and strings to the minimal, energetic rhythms whilst adopting a slightly faster tempo (bpm – beats per minute) than its New York counterpart.

House music soon flourished across the United States, even more so when the demand for dance-floor-oriented tracks built a fire under the world of electronic equipment. By the mid-80s, the rise of drum machines, synthesizers and samplers had caused a whole world of new possibilities to open up, and house music thrived greatly in the slipstream of these technological developments.

Back to Table of Contents
THE SUBGENRES OF HOUSE MUSIC
With it being the first-ever electronic music genre and all, house music has gotten its fair share of musical offshoots throughout the years. Below, we've listed some of the most popular (sub)genres within the house music spectrum, some of which have even become so popular that they're now considered a bona fide genre themselves.
Acid House
Acid house (or acid) first rose to prominence in Chicago in the mid-1980s. Sound-wise, it draws heavily from the squealing tones and deep basslines generated by the Roland TB-303 synthesizer. After its initial surge of popularity in the United States, it started gaining ground in the United Kingdom and Europe, bringing a different kind of house music to a global audience whilst also (slightly) influencing relatively newer genres such as trance music. 'Acid Tracks' by Phuture is often considered the first acid house record.

Interesting to note about Acid House in the United Kingdom is that the name was used more for a cultural movement and a catch-all word for different genres that were being played at clubs and illegal rave. This included hip hop, Chicago house, Detroit techno, Belgian new beat and dance tracks from Italy, Germany and the Netherlands. From that perspective, acid house refers specifically to the music played in clubs in the late '80s rather than tracks made through the Roland TB-303. That was only the time when dance music exploded nation-wide in the United Kingdom. Acid house then carried on throughout the '90s with tracks from the likes of Hardfloor, Richie Hawtin and more.

Afro House
As largely implied by its name, afro house combines the traditional qualities of house music with African drums and lyrics/vocals steeped in African culture. It has more of a tribal feel to it than "regular" house music. A music style called Kwaito, which originated in Johannesburg, South Africa and was very popular in the country across the '90s, is often considered (one of) its spiritual predecessor(s).

Bass House
One of the youngest (sub)genres in this list, bass house is a blend of all kinds of genres. A bit of a melting pot, so to speak. Whilst often sticking to the classic components of house music, it also frequently swaps in characteristic sounds from other genres, such as dubstep's wobble or "eccentric" fills and sound effects. Simply put, it's house music with heavy bass and a bit of cross-genre flavor mixed in.
Big Room House
As taken from our 'The Complete Guide to EDM (or Electronic Dance Music)' article:
Initially a subgenre of electro house, big room (or big room house) rose to prominence in the early 2010s through now-renowned acts such as Swedish House Mafia and Martin Garrix. Its bombastic character, minimal melodies and electro-house-style drops lend themselves particularly well to peak-time event slots, which is why it didn't take long for it to become one of the go-to sounds at the mainstages of many of the world's biggest dance music festivals.

Chicago House
We already briefly mentioned Chicago house in the previous paragraph about the house music history. To many, Chicago house is the true heir to the house music throne: the first style of music that could be classified as house music. Jesse Saunders' 'On And On', Marshall Jefferson's 'Rock Your Body' and Frankie Knuckles' rework of Jamie Principle's Your Love' are all highly esteemed examples of Chicago house.

Deep House
We already discussed the two different views that exist about deep house in our umbrella article about EDM and electronic dance music, but here's the gist:

Whereas the house purists typify deep house as a close relative of Chicago House with a lower tempo and more soulful attitude, most new-gen dance music fans attach the deep house label to the upbeat, radio-friendly and pop-magnetized sound of artists like Lost Frequencies and Felon. We're not taking sides in this one and simply acknowledge that they share a name. What matters is that people like the sound of the music they feel is deep house.
Electro House
Influenced mostly by tech house and electro, electro house popped up around the turn of the millennium (between the late '90s and early 2000s). It is somewhat of a predecessor to the aforementioned bass house, as it can also be typified by the usage of heavy saw bass and thick, thumping drums. Tracks such as Felix Da Housecat's 'Silver Screen Shower Scene' (a track from 2001 that spearheaded the Electro House movement), Benny Benassi's 'Satisfaction' (2002), Fedde Le Grand's 'Put Your Hands Up For Detroit' (2006) and more recent productions such as Dave Winnel's 'Smoke Machine' (2019) seem to fit the electro house bill quite nicely.

Hard House
Hard house, also called UK hard house, originated in London's now-defunct Trade club in the 1990s. A unique style of fast-paced house music, it drew upon the driving beat of Eurodance, stripped off the more emotional parts of dance music and started playing out the aggressive bass stabs and dark-edged beats at breakneck speed (around 150 bpm). It gained a huge following in the UK scene, but didn't gain much of a foothold abroad. It's the perfect subgenre of house music if you want to get the adrenaline surging though.

Future House
A term reported coined by French producer Tchami when he tagged his SoundCloud uploads with the name, future house is often described as the dirty-sounding, big room-tinged brother of deep house, melding funky house music elements with main stage arrangements during the heyday of big room house. There's a lot of debate about where other (sub)genres of house music stop and future house begins (and vice versa), but we can fairly safely tie the term future house to the more minimalistic tracks from artists such as Oliver Heldens, Don Diablo and Laidback Luke.
Latin House
House music with the spice and swung of Latin American music. We reckon that sums it up pretty nicely. It's more of a geographical and cultural denomination than a description of sound, but we can hardly deny the influence of Latin American music in this house music subgenre. Kind of similar to afro house in that sense, though from a slightly different region and culture.

Piano House
Best distinguished as keyboard-based house music if you cut out all the descriptive bells and whistles, piano house could be traced back as far as Rhythim Is Rhythim's 1987 record 'Strings Of Life', a track released under Derrick May's acclaimed alias that is often named as one the earliest Techno tracks. The euphoric staccato-like piano riffs have since permeated nearly every age and style of dance music, from Black Box's 'Ride On Time' to Marshall Jefferson's 'Move Your Body' to Afro Medusa's 'Pasilda'. In recent years, it's often used as a term to describe accessible, piano-driven house music like Low Steppa's 'Wanna Show You', Kisch's 'Bright Lights' and Dale Howard's 'Real Love'. All of these can be found in our brand-new Piano House playlist and on our forthcoming Piano House album, both of which can give you a nice idea of what piano house is all about.
Progressive House
As with deep house, progressive house is another one of those names that can rub some people the wrong way. For the purists, progressive house or progressive sits right in between house music and trance music. Its roots reportedly lie in the rave and club scenes that flourished in the United Kingdom in the early 1990s, around the same time that trance music started rising to prominence. Think artists like John Digweed, Sasha etc.
For the other camp, progressive house is the sound that comes closest to the style of music many (wrongly) refer to as EDM music. What they mean is the kind of music that shares traits with big room house, has radio-friendly vocals, is melodically more outspoken and crosses over into the pop realm easily. Examples of this style of 'progressive house' are songs such as Zedd's 'Clarity', Afrojack's 'Take Over Control' and Avicii's 'Wake Me Up', all of which went on to invade the more mainstream, often pop-dominated charts as well. Without the pop hook, you'd probably end up at tracks from artists such as Hardwell and DubVision.

Tech House
It shouldn't really come as a surprise that tech house is considered the love child of house music and techno music (hence the name). Its minimal sound draws heavily from both genres, sporting a slight overlap with the "original" form of progressive house. Compared to the classic house sound, many elements sound a lot shorter and stubbier and often carry with them a bit of a darker vibe often associated with techno. Today, it's one of the most popular forms of house music. Think artists such as Fisher, Solardo and Jamie Jones.

Tribal House
Similar in structure to deep house, tribal house has a more ethnic edge to it that can also be heard in afro house or latin house. It is very percussion heavy – the beats are often composed of indigenous drums from regions such as Africa or South America – and seldom features a clear melodic hook of any sort. Other influences differ strongly between songs of artists within this genre, as tribal house is generally considered the primary term for all house music that features a more complex percussive rhythm stemming from world music.
OUR HOUSE MUSIC ARTISTS
As a leading record label within many parts of the electronic music spectrum, we have released quite a bit of house music (and its subsidiary genres). We've often done so through label pillars such as Armada Deep, Armada Electronic Elements and Armada Subjekt, as well as through various artist labels such as Eelke Kleijn's DAYS like NIGHTS and Sunnery James & Ryan Marciano's SONO Music.
If you want to see which house artists are part of our roster, we invite you all to have a look here.