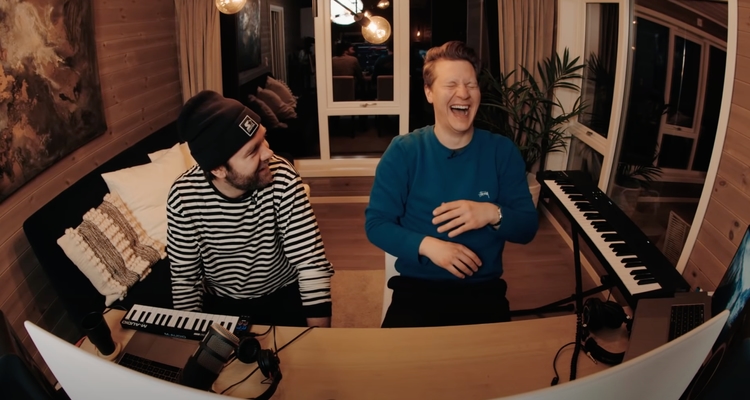 Teaching Toby - A free masterclass series with Matoma and Armada University
In Matoma and Armada University's 8-episode 'Teaching Toby' masterclass series, Norwegian hit producer Tom (Matoma) is giving his friend Tobias an A-to-Z rundown of dance music production. Covering all the basics as well as fundamental subjects such as music theory, layering, track arrangement, vocals, mixing and mastering, the series offers some incredible music production insights that could educate and benefit producers of all levels, from beginners to intermediates and experts.
Furthermore, we will host a free-to-join online masterclass event with Matoma on June 6, 2022. Sign up to our newsletter for more news on the livestream and/or follow our Instagram channel to stay up to date. In the meantime, let Matoma inspire you to create great music by watching the episodes of 'Teaching Toby' below.

Teaching Toby - Episode 1
Episode 1 of the Teaching Toby series starts with the basics so everyone can follow along, even if you know nothing about music production. After a brief introduction, Matoma starts with a bit of music theory, explains the use of samples, and tells a bit about structuring a song and how to create you're a basic drum beat.
Teaching Toby - Episode 2
After looking over Toby's homework, Matoma starts explaining the use and best practices of various audio effect plugins, such as reverb, EQ, delay and compression. He also shares (and shows) more valuable info on layering the bassline for maximum club impact.
Teaching Toby - Episode 3
The tech house vibe is alive and well in episode 3, as Toby present his homework and receives his first gold star for a job well done. Matoma then offers up a lot of extra information to flesh out your knowledge of kicks, plugins, layering and working with scales and chords.
Teaching Toby - Episode 4
In episode 4 of the Teaching Toby series, you're getting thrown into the arts of arranging a song, stacking synths and creating your own original sounds with some basic sound design.
Teaching Toby - Episode 5
Next in this education journey is episode 5 of the Teaching Toby series. After reviewing Toby's three-layer kick, Matoma talks about how sidechain can make your track (and drops) come alive, discusses how different equipment can help improve mixing, and starts explaining about working with vocals and acapellas.
Teaching Toby - Episode 6
There we are with one of the subjects that gets most producers excited: working with vocals. Matoma teaches Toby about time-stretching (or warping) vocals, pitching and using the right audio effects.
Teaching Toby - Episode 7a
With the outline of Toby's first track mostly done, Matoma broaches the topic of mixing. From using (and trusting) your ears to EQing, volume control and panning, you're getting a quick rundown of what it takes to get a balanced mix and why this is important to have before moving onto the final stage: mastering.
Teaching Toby - Episode 7b
The end of the journey, the final part of the Teaching Toby series is all about the final process of music production: mastering. Matoma talks about the little tips and tricks that can help finalize the track, such as removing the final unwanted frequencies, master channel (or bus) compression and, finally, using a limiter to avoid clipping.