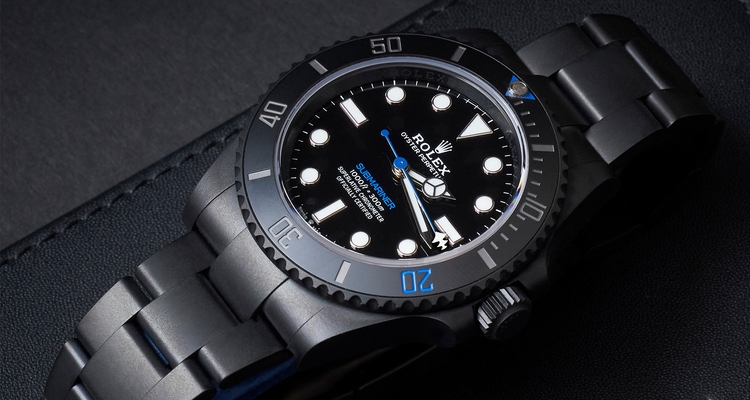 Pro Hunter x Armada Music
Pro Hunter, the trailblazing luxury customisation watch brand, has joined forces with Armada Music, the largest independent dance record label in the world, to commemorate the 20th anniversary of Armada Music by creating a collaborative limited edition watch. The collaboration marks a milestone in both industries, blending the art of horology customisation and the power of music to create a limited edition collection of ten exceptional timepieces.

The Pro Hunter x Armada Music collection pays homage to the concept of time passing and our collective place in it; the past, present and future. The collaboration honours Armada Music's journey over two decades and marks this historic point in the brand's history.
Each customised 41mm Rolex Submariner Ref. 124060 boasts a striking stealth, matt black DLC coating, a sandblasted matt bezel insert with a blue triangle The black shiny dial features 'SUBMARINER' in Armada Blue, while the sweeping hand, also in Armada Blue, proudly displays the logo of the legendary record label on the arrow. The colour scheme is reminiscent of Armada Music's three offices across the globe, where the dance music label has made momentous achievements over the past 20 years. These exquisitely crafted timepieces are individually numbered and come with a bespoke custom caseback.
Inspired by the pulsating rhythm of a bass line and the vibrant ambiance of an electric cobalt strobe light in a nightclub, the design details of the Pro Hunter x Armada Submariner collaboration capture the essence of Armada Music's energy and legacy.

Eight of the ten limited edition Pro Hunter x Armada Submariner watches have already been pre-sold, indicating the anticipation and demand for this remarkable collaboration. The remaining two timepieces are available for purchase exclusively through the Pro Hunter website.