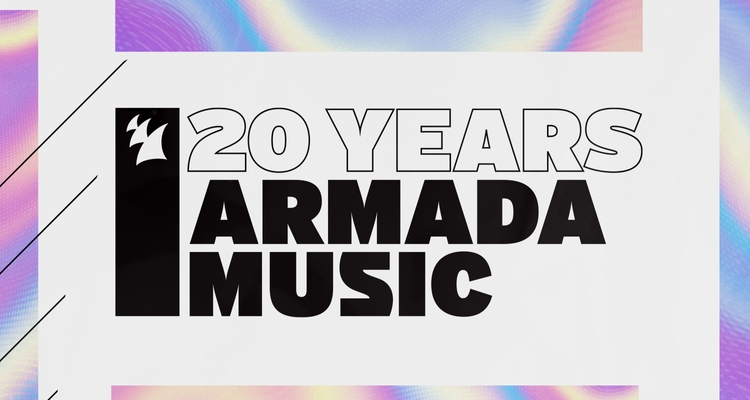 Armada Music - 20 Years Album
Today we celebrate 20 years of Armada Music!
'Armada Music – 20 Years' album is a celebration of our vision to release all kinds of dance music on the condition that each record leaves its listeners with goosebumps and that feeling. Join us as we journey through a selection of tracks from over the years which mean so much to us and to you. From timeless classics, such as Chicane's 'Saltwater', Inner City's 'Good Life', Joe Smooth's 'Promised Land', System F's 'Out Of The Blue' and Three Drives On A Vinyl's 'Greece 2000', to newer hits, including Armin van Buuren's
'This Is What It Feels Like', D.O.D's 'Every Step', Loud Luxury & Brando's 'Body', Tinlicker & Helsloot's 'Because You Move Me' and the Joris Voorn Remix of Eelke Kleijn's 'Transmission'.
So here it is, from us to you, a 4 vinyl, multi-genre celebration of the past 20 years. Thank you for being part of our journey. Enjoy!
Tracklist
VINYL 1
Loud Luxury feat. Brando - Body
Lost Frequencies - Are You With Me
Tinlicker & Helsloot - Because You Move Me
Armin van Buuren feat. Trevor Guthrie - This Is What It Feels Like
Brando - Look Into My Eyes
MÖWE & Daniel Nitt - Lovers Friends
Dennis Kruissen feat. Drew Love - Falling In Love
Sultan + Shepard feat. Nadia Ali & IRO - Almost Home
AmPm feat. Michael Kaneko - Best Part Of Us
Jan Blomqvist feat. Elena Pitoulis - More
Lost Frequencies feat. Janieck - Reality
Sebastien & Boy Tedson - Music In You
Mokita - London
Duvall feat. Sam Gray - Good Feeling
Harold van Lennep - Liberation
Pablo Nouvelle feat. Kylan Road - Ice
Felix Jaehn feat. Thallie Ann Seenyen - Dance With Me
CALVO - On The Move
3LAU & Justin Caruso feat. Iselin - Better With You
Armin van Buuren feat. Mr. Probz - Another You
Audien feat. Cate Downey - Wish It Was You
Thomas Gold feat. Jillian Edwards - Magic
Cedric Gervais - Do It Tonight
GATTÜSO x Damon Sharpe - When In Rome (Mark Sixma Remix)
W&W & Hardwell & Lil Jon - Live The Night

VINYL 2
Armin van Buuren - Blah Blah Blah
Audien feat. M.BRONX - Leaving You
Antillas feat. Fiora - Damaged
ARTY - Save Me Tonight
Andrew Rayel - Silver Lining
Gareth Emery feat. Lucy Saunders - Sanctuary
Morgan Page feat. Lissie - The Longest Road (deadmau5 Remix)
Alok & Liu feat. Stonefox - All I Want
Autograf - Nobody Knows (feat. WYNNE)
Mason vs Princess Superstar - Perfect (Exceeder)
Felix - Don't You Want Me
Laurent Wolf feat. Eric Carter - No Stress
Gadjo - I'm Watching You (So Many Times)
Chocolate Puma - I Wanna Be U
Funkstar De Luxe - Sun Is Shining (De Luxe Edit)
Moony - Dove (I'll Be Loving You)
Static Revenger - Happy People
Phats & Small - Turn Around (Hey What's Wrong With You)
The Good Men - Give It Up
Afro Medusa - Pasilda (Knee Deep Mix)
Dragonette, Sunnery James & Ryan Marciano and Cat Dealers feat. Bruno Martini - Summer Thing
Seizo - Oh Baby
Human Resource - Dominator
Lock 'N Load - Blow Ya Mind (Club Caviar Remix)
Klubbheads - Kickin' Hard

VINYL 3
Joe Smooth - Promised Land
Inner City - Good Life (Remastered) (Club Mix)
Chez Damier - Can You Feel It (New York Dub)
Tensnake feat. Cara Melín - Antibodies (LP Giobbi Remix)
Olav Basoski - Waterman
Matt Guy - Set My Mind Free
D.O.D - Every Step
Harry Romero - Tania
CID x Westend - Let Me Take You
Inner City - Big Fun (Remastered)
Armand Van Helden vs ANOTR - Funk Phenomena
Kristine Blond x James Hype - Love Shy
Low Steppa feat. Kelli-Leigh - Runnin'
Eelke Kleijn - Transmission (Joris Voorn Remix)
Ben Hemsley - Erase Me
Tinlicker x Robert Miles - Children
Kidnap feat. Leo Stannard - Moments (Ben Böhmer & Nils Hoffmann Remix)
Something Good - Rhythm (Of The Night)
Lifelike & Kris Menace - Discopolis 2.0 (MEDUZA Remix)
Lufthaus - Soul Seekers
Sono - Keep Control (ARTBAT Remix)
Sian Evans - Hide U (Tinlicker Remix)
Patrick Topping x Kevin Saunderson - Frisk
Jerome Isma-Ae - Hold That Sucker Down (Charlotte de Witte Trance Edit)
Scot Project - U (I Got A Feeling) (V-Mix)

VINYL 4
Armin van Buuren - Blue Fear
Chicane feat. Moya Brennan - Saltwater
Veracocha - Carte Blanche
System F - Out Of The Blue
Solarstone - Seven Cities (Solarstone's Atlantis Mix)
Three Drives On A Vinyl - Greece 2000
GAIA - Tuvan
Jurgen Vries - The Theme
Binary Finary - 1998 (Paul van Dyk Remix)
i_o - Castles In The Sky
Armin van Buuren feat. Susana - Shivers
Orjan Nilsen - La Guitarra
Robert Nickson - Spiral
The Space Brothers - Shine
Lost Witness - Happiness Happening (Lange Remix)
MaRLo & Feenixpawl - Lighter Than Air
Alex M.O.R.P.H. feat. Sylvia Tosun - An Angel's Love
Avancada vs Darius & Finlay - Xplode (Graham Bell & Yoel Lewis Remix)
Markus Schulz - The New World
Gouryella - Gouryella
Signum feat. Scott Mac - Coming On Strong
Karen Overton - Your Loving Arms
York - On The Beach (Mauro Picotto's CRW Remix)
Vincent de Moor - Fly Away
Armin van Buuren vs Vini Vici feat. Hilight Tribe - Great Spirit