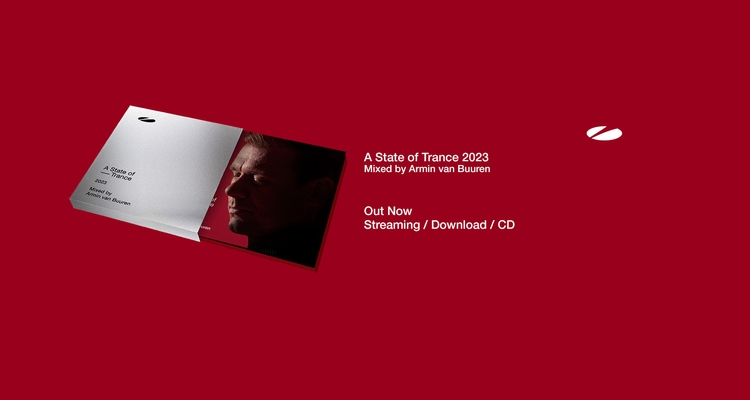 'A State of Trance 2023 - mixed by Armin van Buuren' is here!
As some may recall, there used to be a time when trance music was stylistically boxed in. Either it fit the predominant view of high-energy uplifting to a tee, or a barrage of "this is not trance" comments would be imminent. But over time, even the most headstrong purists came to realize that trance music can't, won't and shouldn't be pigeonholed. It's about breaking the mold instead, to capture that particular feeling no matter the tempo or the sound. And that notion is echoed by the twentieth installment of his A State of Trance mix album series: 'A State of Trance 2023 (Mixed by Armin van Buuren)'.

Brandishing tracks from artists such as Ahmed Helmy, Ben Gold, Bryan Kearney, Eelke Kleijn, Ferry Corsten, Luke Bond, Maarten de Jong and Maddix across three sides rather than the usual two, 'A State Of Trance 2023 (Mixed by Armin van Buuren)' shows that the essence of trance music reaches far, wide and beyond the once-imposed borders. From the slower, melodic house & techno-tinged tracks you hear on the beach to the crossbreed bangers played in the club to the highly energetic Who's Afraid Of 138?! tunes that tears the dance floor apart, the mix album imparts that the genre's diversity is a major strength rather than a flaw. And if we could just take that view and apply it to the grand scheme of things, the world may just become a much better place.
Mix 1 - On The Beach
1. Armin van Buuren & HRRTZ feat. Julia Church - Fire With Fire
2. BetweenUs - Escape
3. KASIA - Universal Nation
4. Sonicvibe & Tachyean - Deep Dive
5. Hel:sløwed & That Girl - Hold Onto This
6. The Blizzard- Rabagast
7. ChangedFaces & Harry Diamond feat. Émilie Rachel - Home
8. UUFO - Energize
9. The Blizzard - Kalopsia (Matt Fax Remix)
10. Cubicore - Bifrost
11. Ferry Corsten - Reborn (Jonas Saalbach Remix)
12. Super8 & Tab and Crowd+Ctrl feat. Jess Ball - Incomplete
13. Laura van Dam - Needing You

Mix 2 - In The Club
1. Eelke Kleijn - Transmission (Armin van Buuren Remix)
2. Giuseppe Ottaviani & Ilan Bluestone - Futuro
3. DIM3NSION - Adagio In G Minor
4. JODA - Breaking Down Walls (Myon's Return To 2000 Mix)
5. Norni - Odyssey
6. Ahmed Helmy - Glitch
7. Armin van Buuren & Ahmed Helmy - Rhythm Inside
8. Ahmed Helmy & D72 – Analogy
9. Maarten de Jong, Frank Spector & Luca Morris – Minuetto
10. Luke Bond x M6 - Nexus
11. Whiteout - Stay Focused
12. Daxson - Who We Are
13. Armin van Buuren feat. Stuart Crichton - Dayglow (Bryan Kearney Remix)
14. Solarstone - Solarcoaster (Maarten de Jong Remix)

Mix 3 - Who's Afraid of 138?!
1. Armin van Buuren & Vini Vici feat. ALBA - When We Come Alive
2. Frank Spector & Doppenberg - GENESIS
3. Mhammed El Alami - Healing
4. Armin van Buuren feat. Justine Suissa - Burned With Desire (Bryan Kearney Remix)
5. Armin van Buuren feat. Vanessa Campagna - Vulnerable (Bogdan Vix & UUFO Remix)
6. Driftmoon - Feel The Waves
7. Artento Divini x XiJaro & Pitch – Bad Boys
8. Ben Gold - Ultrasonic (Maarten de Jong Remix)
9. Armin van Buuren - Computers Take Over The World (Maddix Remix)
10. John Askew - Aces Hi
11. Miditekk - Slow The World Down
12. Inoblivion - When Darkness Falls
13. Steve Dekay - Black Magic
14. David Forbes - Dreamstate