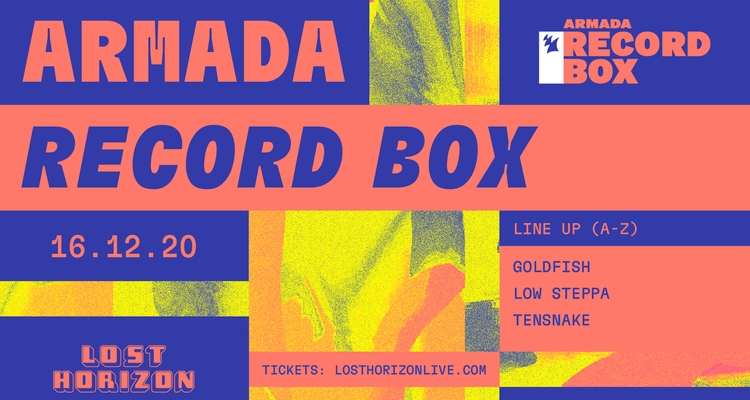 Lost Horizon x Armada Record Box
Lost Horizon is back. The world's largest virtual music & arts venue –– created by the team behind Glastonbury's legendary Shangri-La, in partnership with virtual events platform Sansar. Across December, our sprawling multiverse reopens for a program of digital events. This season features some of the biggest DJs & live acts performing in alternate reality, amongst a showcase of digital art, film & technology.

Armada Music is the biggest independent dance music label in the world, founded in 2003 by Armin van Buuren, Maykel Piron and David Lewis (AR-MA-DA).Channeling the sounds from Armada Music's underground tinged-labels, Armada Record Box is the go to for festival vibes & tunes designed to shake up a dancefloor. Home to the deeper, cutting-edge-sounds that Armada Music has to offer, the programming on this arena will cover all bases of melodic techno, percussive house and floor-filling dance anthems, boasting names such as Goldfish, Low Steppa and Tensnake. Featuring under-the-radar sounds from labels such as Armada Electronic Elements, Armada Subjekt and Armada Deep to name a few, we're turning up the virtual heat on this stage - make sure to lock in.

The Lost Horizon December programme spans five different virtual environments ––Freedom, The Gas Tower, Nomad, SHITV and the ShangrilART gallery–– plus all of Lost Horizon's surprise magic: wild dancefloors, secret headliners, hidden wormholes. Entirely interactive, explore the experience across various formats: As an avatar via PC and in VR; or view it across multiple camera angles via mobile app or on any browser. Customise your avatar, navigate the environment & enjoy the show: dance with friends, meet new ones, go incognito–– the world is yours.

Line up (A-Z): Goldfish, Low Steppa, Tensnake

Tickets: https://www.residentadvisor.ne...